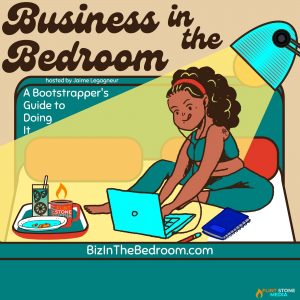 Business in the Bedroom
A Bootstrapper's Guide to Doing It
hosted by Jaime Legagneur
Thanks for finding Business in the Bedroom – A Bootstrapper's Guide to Doing It. I'm your host, Jaime Legagneur, and, I've built my business, Flint Stone Media, from MY bedroom as my passionate pursuit of making OTHER people's dreams and goals come to fruition. Business in the Bedroom, is now my latest effort to do just that, and I'm sooo happy that you're going to be joining me!
Check out the launch episodes!
(All episodes display further down below…)
Launched January 4, 2021
8-Episode Launch Rundown:
January 4, 2021:
January 11, 2021:
January 18, 2021:

Episode 5: Jacking and Jilling – Learning to Do Everything
Episode 6: I Can't Come Hang. I Have to Update My Website (To Get Laid or to Get Paid: Defining Priorities)

January 25, 2021:

Episode 7: The Brokest Days of Your Life
Episode 8: Self-Care and Success
After our initial 8-episode push in January, I'll deliver this show to you every other week on Mondays.
I'm assuming you will be listening to this, because you are either running a business from YOUR bedroom or are thinking about it. I started my first podcast on this subject back in 2014, calling it "Curve the Cube," interviewing other people on how they had been finding success doing what they truly love–in order to guide not only myself, but also others. And, I've been building a business around helping others achieve their OWN business goals ever since.
"Hit it hard. Keep the lights on."
Leave me a voice message:
COMING SOON! (Send me a message below...)
Join the Conversation on Facebook:

All previous episodes will be listed here…
Submit a Comment or Question!