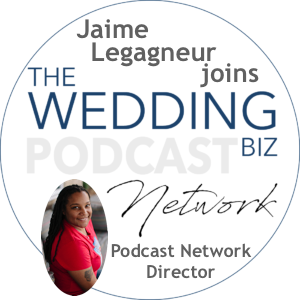 We are proud to announce that Jaime has taken on the role of Podcast Network Director for The Wedding Biz Network with entrepreneur, Andy Kushner! Crafting events and over-the-top experiences for weddings, corporate events, and gala fundraisers has been Andy's business for YEARS, and he created a successful podcast interviewing other industry notables, The Wedding Biz. Now, as Andy takes the leap to expand The Wedding Biz into The Wedding Biz Network, he's brought Jaime onto his team as the Podcast Network Director, and she is VERY excited to build a successful Network for him.
"This presents an opportunity for me to scale my podcasting career and Flint Stone Media's business model in a whole new way–beyond the potential of growing my own network–Florida Podcast Network. I can now develop a reputation in this space as a podcast network architect. I've taken what I've learned as a Production Manager with Horse Radio Network, parlayed it into founding and building my own network. And now, I'm able to build networks for other podcasting entrepreneurs!" ~ Jaime Legagneur
Thank you to Andy for the opportunity!
#WeddingBiz
Please subscribe for updates!