I Tripped on a Radio Opportunity, and Landed Right in the Middle of My Destiny
While mulling through an unfulfilling career as a data analyst, I was confronted with a sudden pending opportunity to become a producer on my favorite radio show. How? Well, that's not the focus of this article. BUT, as I grew restless waiting for that call, I settled back into my daily routine of escaping my cubicle-bound existence by listening to the Nerdist podcast. As I listened to Chris Hardwick's guests' stories of living out their creative dreams, I began to wonder: "How did they make it happen… and how can I? My personal life was surrounded by people doing exactly that; so, I decided to just start asking them how they "curved" their way around the obstacles and broke free from the confines of their own (literal or proverbial) cubicle. That's when the lightbulb sparked! While I was at it, I figured I might as well start a podcast to share those conversations with the world. And, as an added bonus while I continued waiting for the call from that radio gig, podcasting would give me a chance to practice my mic and production skills. WINNING!!
So, the Curve the Cube podcast was born with the mission of demystifying the process of pursuing your dreams by interviewing people who already were. Then, when the radio gig vanished (without even getting that call, I might add… grrrrrr….), what I thought was a terrible ending ended up being the best thing EVER, because it allowed me the brain space to fall in love with the podcasting space. Since then, my podcasting journey has taken on a life of its own, and I've truly fallen in love with the craft–discovering the path to curving my own cube along the way!
It has been quite the loop-de-loop roller coaster, to be honest. (In fact, I refer to my first 100 episodes of Curve the Cube as my "Album 1," because–mostly due to audio and editing shortcomings–it was chock full of the mistakes that come with every learning curve of growth. Eek!) But, I started listening to trusted how-to-podcast podcasts and kept focused on improving my skills, organizing the Palm Beach Podcasters MeetUp group and launching (with less-than satisfying results at first, I must admit) my other show, "Eggheads After Hours."
My goal in 2017 has been to figure out the secret sauce and transition from being "a girl with a podcast" to becoming a seasoned enough podcaster to start my company, Flint Stone Media's, transition to a full-fledged podcasting firm. Well, I didn't realize just how quickly that would happen!
With my investment in FAR superior editing software, my podcasting (and imagination for its possibilities) suddenly opened up to an entirely new level. I revamped Curve the Cube, tightening up its message and presentation, relaunched Eggheads After Hours (after having put it on a VERY long backburner hiatus during my term of self-improvement), and launched the Flint Stone Media Podcast Network. I simply couldn't stop diving in full-tilt with two feet–completely energized by the power of podcasting!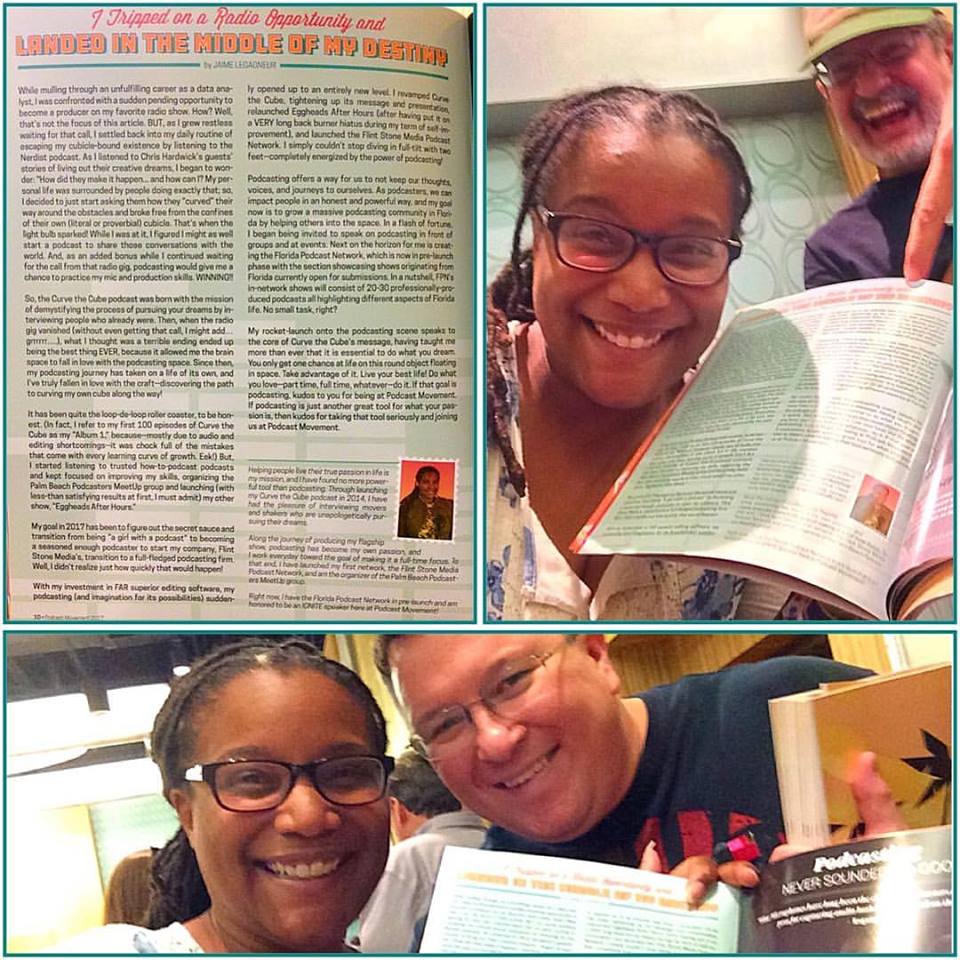 Podcasting offers a way for us to not keep our thoughts, voices, and journeys to ourselves. As podcasters, we can impact people in an honest and powerful way, and my goal now is to grow a massive podcasting community in Florida by helping others into the space. In a flash of fortune, I began being invited to speak on podcasting in front of groups and at events. Next on the horizon for me is creating the Florida Podcast Network, which is now in pre-launch phase with the section showcasing shows originating from Florida currently open for submissions. In a nutshell, FPN's in-network shows will consist of 20-30 professionally-produced podcasts all highlighting different aspects of Florida life. No small task, right?
My rocket-launch onto the podcasting scene speaks to the core of Curve the Cube's message, having taught me more than ever that it is essential to do what you dream. You only get one chance at life on this round object floating in space. Take advantage of it. Live your best life! Do what you love–part time, full time, whatever–do it. If that goal is podcasting, kudos to you for being at Podcast Movement. If podcasting is just another great tool for what your passion is, then kudos for taking that tool seriously and joining us at Podcast Movement.
Hope to see you at a session!!
Helping people live their true passion in life is my mission, and I have found no more powerful tool than podcasting. Through launching my Curve the Cube podcast in 2014, I have had the pleasure of interviewing movers and shakers who are unapologetically pursuing their dreams.

Along the journey of producing my flagship show, podcasting has become my own passion, and I work everyday toward the goal of making it a full-time focus. To that end, I have launched my first network, the Flint Stone Media Podcast Network, and am the organizer of the Palm Beach Podcasters MeetUp group.
Right now, I have the Florida Podcast Network in pre-launch and am honored to be an IGNITE speaker here at Podcast Movement! 
Please subscribe for updates!