Congratulations, Mystic Michaela and Scott!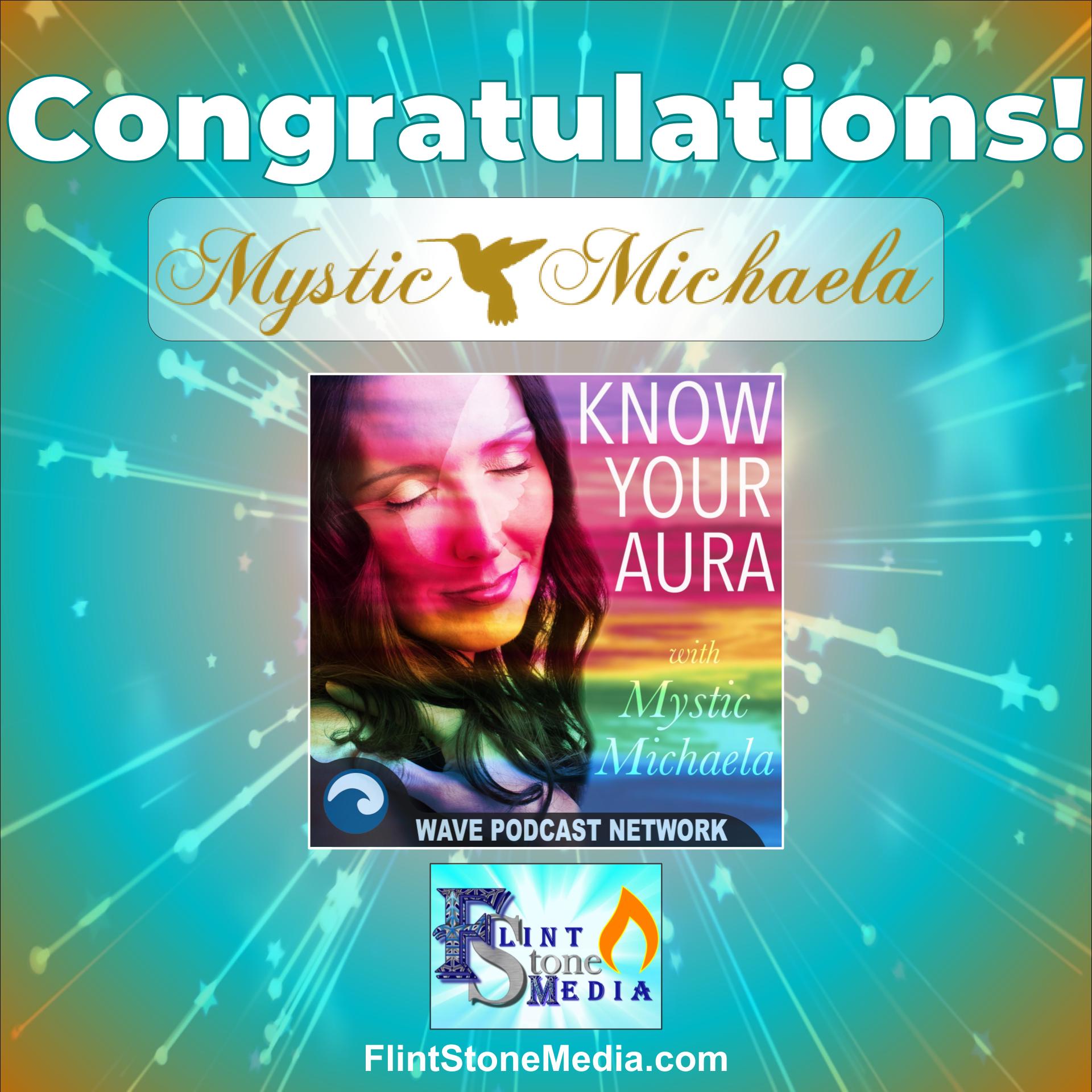 It is with great pride that we announce that our client, Mystic Michaela, has joined the Wave Podcast Network–a growing podcast network out of California!
We are so proud to have been the podcast production house who got her amazing show with husband, Scott, called "Know Your Aura" off of the ground! Scott, who has acted as Mystic Michaela's (Megan's) business manager since her aura readings took off, first called Jaime in the summer of 2019 with the idea of launching a show for his wife. Jaime was used to people finding Flint Stone Media through a Google search. However, Scott had gone the extra mile and shown Megan Jaime's picture, in order for her to read Jaime's aura, first, and decide whether she had not only the right skills, but also the right character and temperment to work with. Well, Jaime passed the test, got the call, and coudn't WAIT to work with and meet with her.
The next few weeks of working with Megan and Scott's new show was an absolute blast, cultivating not only a professional relationship, but also a friendship. Jaime found Megan's gift absolutely FASCINATING, and couldn't wait for the world to hear all about her, too. (Pictures below.)
So, to see how much success Megan's show received from the very beginning and how well it was embraced by her Spiritual Family was a total thrill. And, when we got the call that all the hard work had paid off, and they had been picked up by Wave Podcast Network, it was a very bittersweet feeling. But, we wouldn't have it any other way! Our clients' success is our success, and we couldn't be more proud to see them reach their goals and set even bigger ones!
We are proud to have launched Know Your Aura from the FSM engine and are proud of our team for all of their hard work. Congratulations to Megan and Scott for the success of their show and for continuing to share her gift with the world!
Guys, we are so sad to see you go, but we are so proud to watch you grow!
Listen to Mystic Michaela's Appearance on Jaime's Show, People of Florida:
Please subscribe for updates!