Education and Inspiration Through Community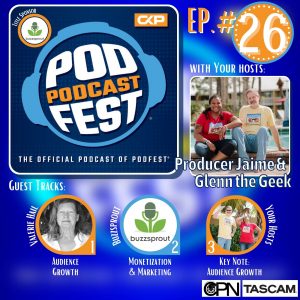 Valerie Hail of the Wealth Yoga Wine podcast joins us again! She's contributing our tip for Track 1, which will really help your podcast grow: the benefits of volunteering at Podfest. Then for Track 2 on Monetization and Marketing, our friends at Buzzsprout did a great video on creating a brand around your podcast, which we'll share with you today–and there's a reason we are highlighting their YouTube channel, in particular. And, for our Key Note today, Glenn the Geek and Producer Jaime are answering a question that Glenn found on Facebook that really got us thinking: "if you have a very small podcast with a small following, how on earth do you get to be a guest on other people's shows?" So, listen in for all of that and more on today's episode. Welcome to the conference!
Chapters:
7:27 – Podfest on the Move – Shoutouts
11:50 – Track #1: Audience Growth with Valerie Hail of Wealth Yoga Wine Podcast (Benefits of Volunteering at Podfest)
16:49 – Track #2: Monetization and Marketing with our friends at Buzzsprout (Creating a Brand Around Your Podcast)
28:12 – Track #3: Audience Growth with Glenn the Geek and Producer Jaime (Pitching Yourself as a Guest)
35:38 – Close
Link to Sound File for Sight Impaired: Click Here
Presented by: Podfest Multimedia Expo
Title Sponsor: Buzzsprout
Hosts and Executive Producers: Glenn the Geek of Horse Radio Network and Producer Jaime of Flint Stone Media, Florida Podcast Network, and Podcasting Your Brand | Catch their past show, Finding Florida!
Link: Tickets for Podfest's Next In-Person Conference, from January 26-29, 2023
Guest, Track 1: Valerie Hail of the Wealth, Yoga, Wine Podcast
Track 2, provided by Buzzsprout: Buzzsprout's Podcasting Q&A
Track 3, provided by your hosts! More FREE tips!
Other Useful Links and Tools for You:
Email the Hosts: Glenn: Glenn@HorseRadioNetwork.com | Jaime: Jaime@FlintStoneMedia.com
Vocal Editor: Paul Stevens
Assistant Producers: Jorge Hernandez & Amber Amortegui
Intro Voice Over Artist: Jodi Krangle
Equipment Sponsor: TASCAM (We use their Mixcast 4 and LOVE it!!)
Also check out: TASCAM TM-70 Dynamic Microphone | Tascam TH-05 Monitoring Headphones
Interested in becoming the show's next Sponsor? Contact the Podfest Podcast team today!
Connect with Podfest and Follow on Social Media (@PodfestExpo): Instagram | Twitter
Join the Podfest Groups: Facebook | Goodpods | Clubhouse
Additional Support Provided by: Podfest Multimedia Expo, Compliance Podcast Network, and Podpage
—————–
Production: Flint Stone Media | Horse Radio Network
Copyright of Cutting Edge Events LLC 2022.
Send Your Questions and Feedback:
[gravityform id="5″ title="false" description="false" ajax="false"]