Education and Inspiration Through Community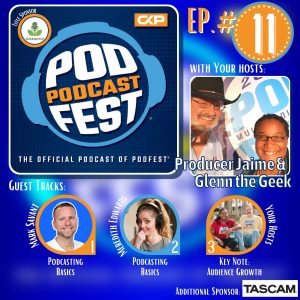 On today's episode, our first two tracks cover some essential Podcasting Basics. On Track 1, we'll hear from Mark Savant of the "After Hours Entrepreneur" talking about the importance of not trying to do podcasting on your own. And, for Track 2, Meredith Edwards from "Meredith for Real: the Curious Introvert" shares her secrets for success in getting guests and being a guest. And, for Track 3, Glenn and I discuss changing your podcast after you start: the frequency, the length, the content–dare we even say, the TITLE? Clutch my pearls! How does that affect Audience Growth? Plus, we'll go behind the curtain of the Apple algorithm, share our latest from Podfest, and our community shout outs. Welcome to the conference!
Chapters:
12:44 – Podfest on the Move – Shoutouts
16:48 – Track #1: Podcasting Basics with Mark Savant of the After Hours Entrepreneur Podcast (Masterminds and Not Going it Alone)
22:54 – Track #2: Podcasting Basics with Meredith Edwards of Meredith for Real: the Curious Introvert (Guest Discovery Hacks)
29:09 – Track #3: Audience Growth with Glenn the Geek and Producer Jaime (Can You Change Your Podcast After You Start?)
39:06 – Close
Link to Sound File for Sight Impaired: Click Here
Presented by: Podfest Multimedia Expo
Title Sponsor: Buzzsprout
Hosts and Executive Producers: Glenn the Geek of Horse Radio Network and Producer Jaime of Flint Stone Media, Florida Podcast Network, and Business in the Bedroom | Catch their past show, Finding Florida!
Link: Get your tickets NOW for the May 26-29 Podfest Expo in Orlando!! (Use the code "PMEpodcast" to get 20% off any ticket.)
Link: Apple Podcasts Charts Decoded
Guest, Track 1: Mark Savant of the After Hours Entrepreneur Podcast and Podcast Savants
Guest, Track 2: Meredith Edwards of Meredith for Real: the Curious Introvert | Follow Meredith on Instagram (@meredithforreal) | Visit Meredith's Website
Track 3, provided by your hosts! More FREE tips! | Podcast Booster Class
Link: Join the new Podfest club on Clubhouse!
Link: Glenn the Geek on Jaime's new TECHxploration podcast
Link: Join the Owwll App, find great guests, and monetize your expertise! (Use Producer Jaime's referral code PL954123 during signup to get priority early access and a $10 signup bonus!!)
Email the Hosts: Glenn: Glenn@HorseRadioNetwork.com | Jaime: Jaime@FlintStoneMedia.com
Vocal Editor: Paul Stevens
Assistant Producers: Jorge Hernandez & Amber Amortegui
Intro Voice Over Artist: Jodi Krangle
Equipment Sponsor: TASCAM (We use their Mixcast 4 and LOVE it!!)
Also check out: TASCAM TM-70 Dynamic Microphone | Tascam TH-05 Monitoring Headphones
Interested in becoming the show's next Sponsor? Contact the Podfest Podcast team today!
Connect with Podfest and Follow on Social Media (@PodfestExpo): Instagram | Twitter
Join the Podfest Groups: Facebook | Goodpods | Clubhouse
Additional Support Provided by: Podfest Multimedia Expo and Podpage
—————–
Production: Flint Stone Media | Horse Radio Network
Copyright of Cutting Edge Events LLC 2022.
Send Your Questions and Feedback:
[gravityform id="5″ title="false" description="false" ajax="false"]