Education and Inspiration Through Community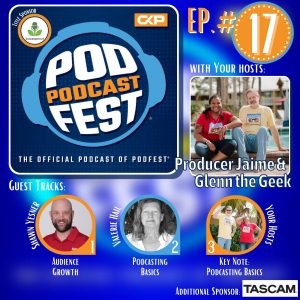 On Track 1 of today's episode, Shawn Yesner of the Crushing Debt Podcast will give you a solid understanding of how to be both consistent AND flexible in presenting your podcast, and how that balance can contribute to your Audience Growth. Then, for Track 2, we have one of this year's Pecha Kucha speakers, Valerie Hail, sharing advice on structuring your episodes… And, for our Key Note, Glenn the Geek and Producer Jaime are FINALLY going to make good on their promise from Episode 12 and share their tips for optimizing the sound of your remote recording sessions. Better late than never, right?? Welcome to the conference!
Chapters:
2:30 – Podfest on the Move – Shoutouts
5:32 – Track #1: Audience Growth with Shawn Yesner of Crushing Debt Podcast (Consistancy Mixed with Flexibility)
12:07 – Track #2: Podcasting Basics with Valerie Hail of Wealth, Yoga, Wine Podcast (Episode Structure)
16:27 – Track #3: Podcasting Basics with Glenn the Geek and Producer Jaime (Optimizing Your Remote Recording Session Sound)
25:31 – A Special Shout-Out to Chris Krimitsos
28:57 – Close
Link to Sound File for Sight Impaired: Click Here
Presented by: Podfest Multimedia Expo
Title Sponsor: Buzzsprout
Hosts and Executive Producers: Glenn the Geek of Horse Radio Network and Producer Jaime of Flint Stone Media, Florida Podcast Network, and Podcasting Your Brand | Catch their past show, Finding Florida!
Link: Speaker Applications for Podfest Global (Podfest's Virtual Conference) September 12-15, 2022 are OFFICIALLY OPEN!
Guest, Track 1: Shawn Yesner of the Crushing Debt Podcast
Guest, Track 2: Valerie Hail of the Wealth, Yoga, Wine Podcast
Track 3, provided by your hosts! More FREE tips!
Link: Podfest Podcast Episode 12: Women in Podcasting, Leaning Into Being Yourself, and Optimizing Mobile Recording Quality, brought to you by Buzzsprout
Link: Producer Jaime's Tips for Handling Audio Issues During Remote Recordings
Other Useful Links and Tools for You:
Email the Hosts: Glenn: Glenn@HorseRadioNetwork.com | Jaime: Jaime@FlintStoneMedia.com
Vocal Editor: Paul Stevens
Assistant Producers: Jorge Hernandez & Amber Amortegui
Intro Voice Over Artist: Jodi Krangle
Equipment Sponsor: TASCAM (We use their Mixcast 4 and LOVE it!!)
Also check out: TASCAM TM-70 Dynamic Microphone | Tascam TH-05 Monitoring Headphones
Interested in becoming the show's next Sponsor? Contact the Podfest Podcast team today!
Connect with Podfest and Follow on Social Media (@PodfestExpo): Instagram | Twitter
Join the Podfest Groups: Facebook | Goodpods | Clubhouse
Additional Support Provided by: Podfest Multimedia Expo and Podpage
—————–
Production: Flint Stone Media | Horse Radio Network
Copyright of Cutting Edge Events LLC 2022.
Send Your Questions and Feedback:
[gravityform id="5″ title="false" description="false" ajax="false"]