The Year We Battled and Beat the Odds!
Hot off the presses and better late than never (especially because Jaime only just thought to do this over the weekend…) is Flint Stone Media's first ever Annual Report!!
We have been so proud of all the strides the Flint Stone Media team has made in 2020–it's sixth year of operation. In spite of how many difficult twists and turns the pandemic brought, we managed to still show solid growth over the previous year. Here are our official FSM company stats for 2020:
New Team Members: 7
New Shows Launched: 12
Existing Shows Becoming clients: 2
Episodes Produced: 478
Total Downloads for Our Clients: 1,045,117*
Special Audio Projects: 3
Shows Currently in Development: 9
* This total only includes downloads for shows for which we are able to access and verify the stats directly ourselves.
Throughout the growth of the Flint Stone Media team in 2020, Producer Jaime focused on balancing the addition of her extraordinarily talented new team members with still providing all new podcasters with her signature personal attention and proprietary show development process. Thus, as the Flint Stone Media team and portfolio scaled, so did its culture of turnkey, personal production. Jaime knows that none of FSM's achievements in 2020 would have been possible without the dedication and skills of her team–especially as many of them were brought on board just before the pandemic hit. And, throughout their own hardships, Flint Stone Media's clients have shown such inspiring strength and passion for their craft, that we can only thank them for allowing us to continue as part of their journeys.
As a personal note, Producer Jaime also hit some strong career milestone stats for the year:
Podcasts Invited on as a Guest or Guest Host: 3
Printed Interviews: 2
Public Speaking Engagements: 4
Plus, she was ECSTATIC to end the year with the launch of her own brand new podcast, Business in the Bedroom, which is being really well-received!
Several of these above FSM stats were associated with key moments throughout the year. Here are some of those highlights:
January 2020: Jaime was invited to present a podcasting workshop at the Grand Opening of Her Power Space
January 2020: Jaime attended her 4th Podfest, was a Panel Speaker at the Podcast Editors Conference, and was the recipient of the 2020 Podfest High Achiever Award
February 2020: FSM Resurrects its original digital marketing services (website, social media, etc…) for its podcasting clients
February 2020: FSM added several new, HIGHLY talented members to the team and focused on growing the independent client portfolio
February 2020: Jaime penned a personal A Personal Note of Reflection, including a TON of pics from her podcasting journey
April 2020: Client, Mystic Michaela, graduated to the Wave Podcast Network!
May 2020: Finding Florida Podcast Featured was featured in Travel Weekly
May 2020: Jaime Guest-Hosted on Blk Pod Collective: The Podcast for their episode, "Monetization Starts Before You Launch"
August 2020: Jaime was Interviewed Live by The Inspiration Station
September 2020: Jaime was a Keynote Speaker for the 'Let's Talk' Palm Beach Innovation Conference
October 2020: FSM Celebrated our 6th Anniversary
Hello, I'm Andy Kushner, host of the leading wedding and events podcast, The Wedding Biz. And I have been so fortunate to have partnered with Jaime Legagneur and her company, Flint Stone Media, to grow The Wedding Biz from a solo show into a full podcast network. Since May 2019 (even through this pandemic), Jaime has been by my side in the sales process–helping to solidify the sale with each new host and then guiding them through her well-established show development process thereafter.

And Jaime really pulled every corner of her talent into this endeavor for me–applying not only her podcasting acumen, but so much more. She also applied her business education from Tulane University to put together my strategy plan, framework, and supporting documentation. Furthermore, Jaime used her legal knowledge from the Law School at the University of Virginia to manage my hosts' contracts–frequently also acting as the liaison with my legal counsel.

Plus, she utilized her vast experience as a web designer and developer to both build the website for The Wedding Biz Network and redesign the website for my podcast, The Wedding Biz, increasing discoverability for the flagship show.

I was fortunate to find such an array of skills in just one person.

Above all else, Jaime has demonstrated unbounded dedication and an authentic enthusiasm for my success. AND her entire Flint Stone Media team has made wonderful contributions to the effort by supporting the production of shows for Sean Low, Rachel Birthistle, and Preston Bailey from launch through episode recording, editing, post-production, and distribution. I simply could not have built this network without them, and I can't wait to see how far TWBN goes with their continued support!
Though growth is naturally on Jaime's mind as an entrepreneur, she remains steadfast and committed to maintaining an atmosphere of personal and enthusiastic service. As such, we are so pleased that most of our new clients continue to come through referrals from our existing clients–many of whom are not just referring colleagues, but also their friends and family. We cherish their trust and confidence!
In fact, out of those nine shows noted above as currently in development, most of them came as referrals from our existing clients!
Others are new shows in development for Florida Podcast Network. So, be sure to stay tuned into that website or follow @FLPodcastNet on social media for those upcoming announcements. (Facebook | Twitter | Instagram)
As Flint Stone Media continues to grow and evolve to meet Producer Jaime's vision and mission of helping others achieve their goals through the power of podcasting, we as a team are proud of all we accomplished in 2020, thank our amazing clients and their listeners, and look forward to all the wonderful things 2021 will bring!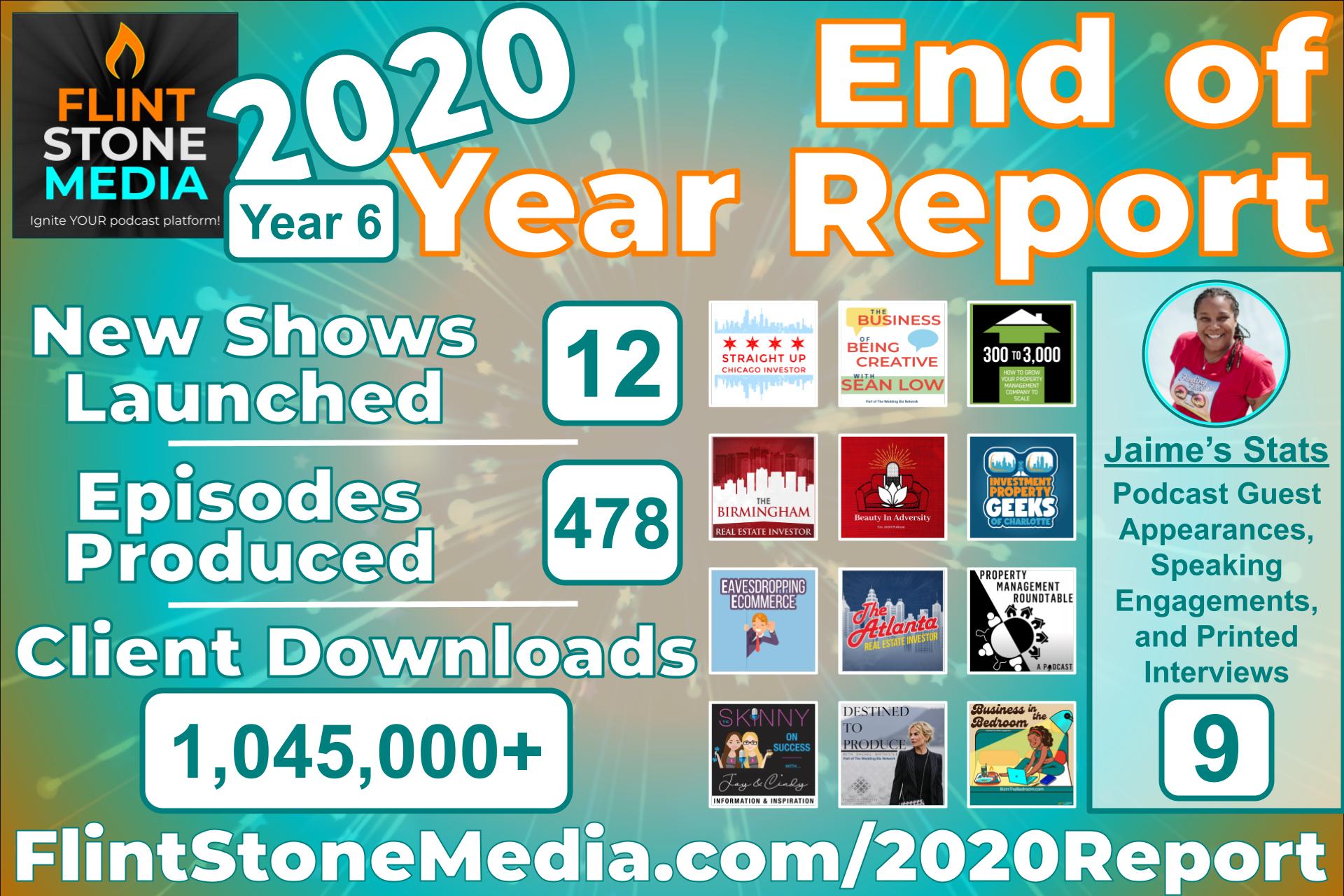 Please subscribe for updates!