Producer Jaime First Launched Flint Stone Media 8 Years Ago TODAY!

Eight years ago today, I had a dream. I was in my cubicle celebrating my 15th year as a data analyst and DESPERATE to break free. After discovering my talent for promotional work, I took my first big step toward the actualization of that dream and planted the Flint Stone Media flag. As you'll see below in the timeline, it has been an INCREDIBLE ride that has opened all kinds of doors, allowed me to experience both personal and professional growth in a way I never could have imagined or predicted, and given me not only my voice, but also my wings.
However, the Flint Stone Media dream quickly expanded beyond myself. Not only is the spirit of FSM rooted in making our clients' dreams come true, but the company's growth has allowed me to grow an amazing team who is seeing some of their own dreams unfold through FSM, too. And, I could NOT have done a BIT of this without them. (For my 2020 personal reflection on my journey that includes a TON of amazing photos, click here.)
And last year, I added a new layer onto this journey: podcast coaching! For all these years, I have provided podcast consulting to my production clients at any time they've needed to reach out. And, I've looked for opportunities for them along the way,  as well. I had previously been the original podcast instructor for the Connecticut School of Broadcasting, teaching podcasting to students completely new to podcasting and broadcasting.
But, joining Clubhouse during the pandemic and continuing to provide value to all kinds of people both entering podcasting and looking to grow an existing show. So, I ultimately put together Producer Jaime's Coaching Program!! And then, toward the end of this past year for FSM, I came up with one more idea to help podcasters of all means start off on the right foot…
June 2014: Founded Flint Stone Media LLC
October 2014: Launched my own first podcast, Curve the Cube
This last year, I transitioned my solo show, Business in the Bedroom, to be more laser-focused on the kind of questions people were loving to ask me and that I was truly enjoying: podcast questions! So, Business in the Bedroom became Podcasting Your Brand! And, the performance of that show and connection I have made with audiences through it has been an amazing ride!
And, in so many other ways, this past year hasn't disappointed in the SLIGHTEST. I became a Brand Ambassador for my friend, Jason Hill's, amazing new app called Owwll, where you can have private, on-demand, 1:1 calls with experts of all sorts. And, as an expert, you can monetize your expertise–just what so many podcasters are trying to do anyway! And, I have now started two other new shows. I have such fun co-hosts on those shows, and they represent major brands that I've been very proud to partner with: Podfest Podcast and Owwll Podcast (coming soon!).
Here's to this next year of Flint Stone Media and Florida Podcast Network being FULL of prosperity for all involved. And, thank you again to my AMAZING team!!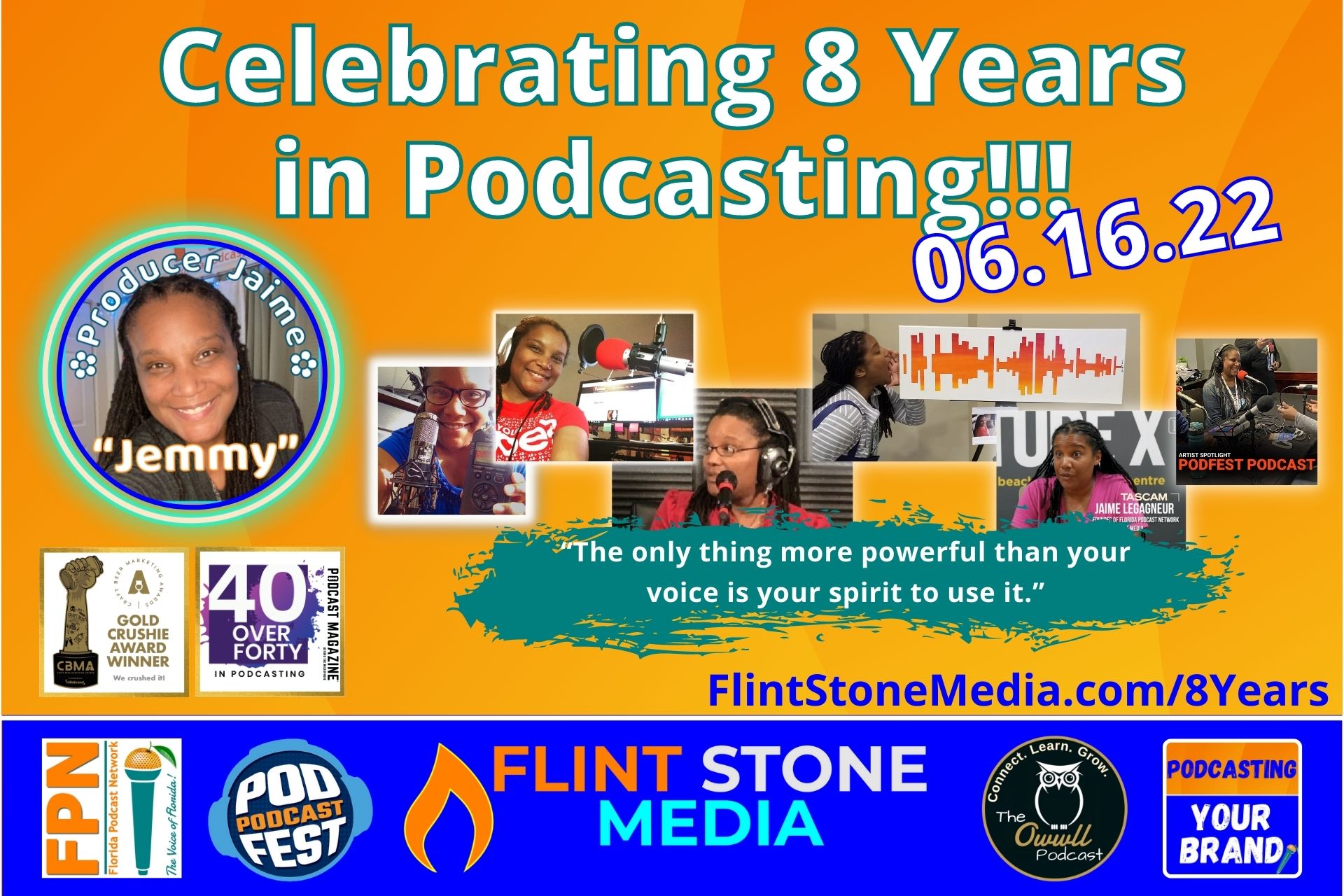 Please subscribe for updates!