Producer Jaime First Launched Flint Stone Media 9 Years Ago TODAY!

Nine years ago today, I had a dream. I was in my cubicle celebrating my 15th year as a data analyst and DESPERATE to break free. After discovering my talent for promotional work, I took my first big step toward the actualization of that dream and planted the Flint Stone Media flag. As you'll see below in the timeline, it has been an INCREDIBLE ride that has opened all kinds of doors, allowed me to experience both personal and professional growth in a way I never could have imagined or predicted, and given me not only my voice, but also my wings.
However, the Flint Stone Media dream quickly expanded beyond myself. Not only is the spirit of FSM rooted in making our clients' dreams come true, but the company's growth has allowed me to grow an amazing team who is seeing some of their own dreams unfold through FSM, too. And, I could NOT have done a BIT of this without them. (For my personal reflection on the earlier part of my entrepreneurial journey up to 2020, which includes a TON of amazing photos, click here.)
June 2014: Founded Flint Stone Media LLC
October 2014: Launched my own first podcast, Curve the Cube
And this year, we have added not only our White Glove level or service, but are also getting ready to debut our newest Network–the Power Moms Network. The Power Moms Network's mission is to join more of us Power Moms together in a leadership capacity and then connect with and inspire future Power Moms by growing a community that lifts all of our ships, with impactful podcasting at the core. And, I am hosting the Network's flagship show, Power Moms, to help more moms learn to parlay THEIR parenthood superpowers into successes in other areas of their lives.
Thank you to ALL who have supported us over these last 9 years: our clients, my mentors, and (MOST importantly), my team. Jorge, Amber, Paul, Dan, and Monique are the most talented and passion-filled team I could have ever hoped for.
Here's to another 9 years!!!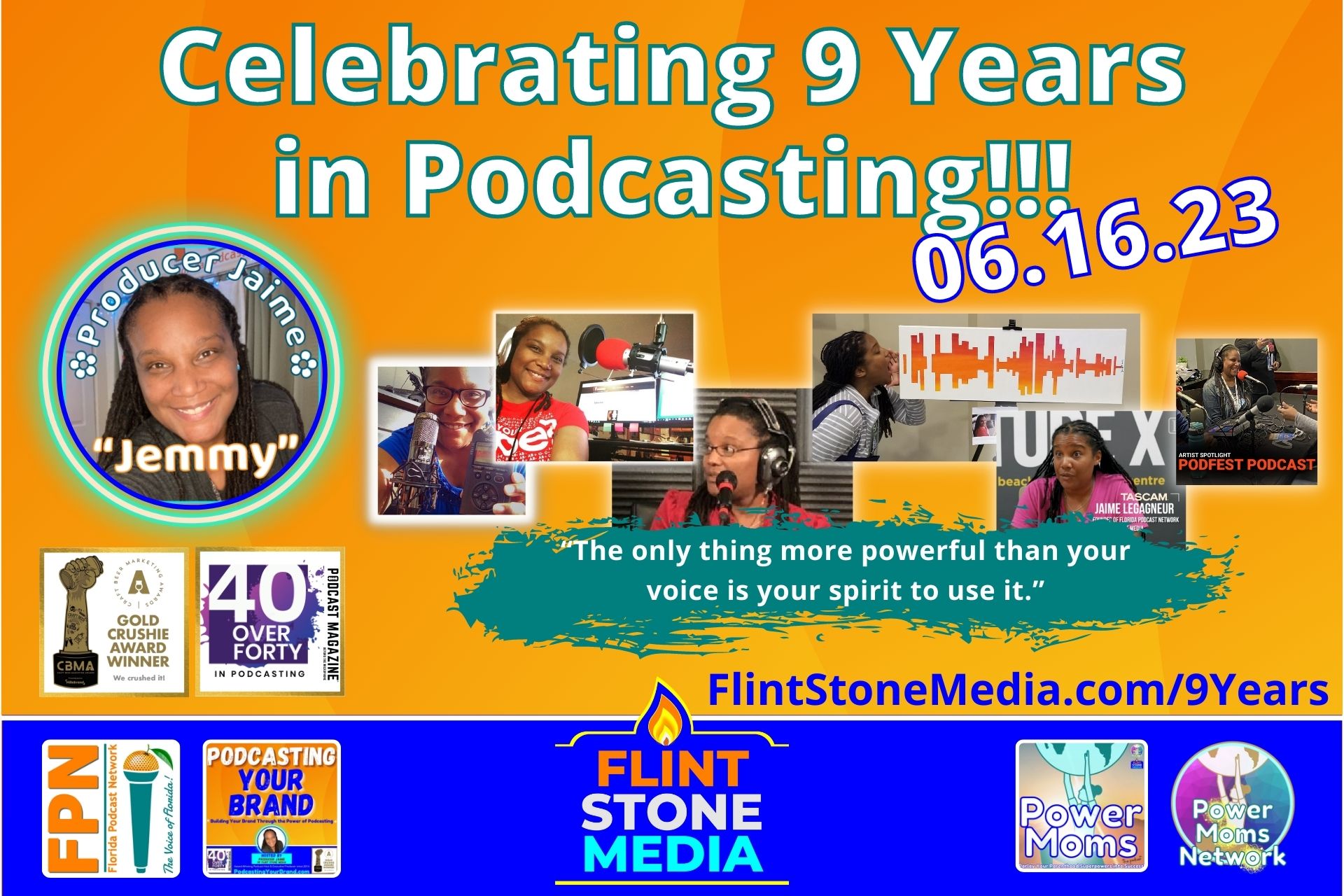 Please subscribe for updates!